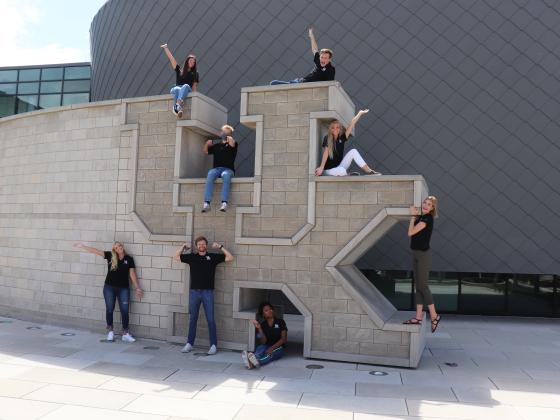 Welcome to
#iCANendthetrend
What is #iCANendthetrend?
The primary goal of #iCANendthetrend is to provide tobacco use prevention services to youth, families, and community members across Kentucky. #iCANendthetrend is an evidence-informed program developed by College of Education faculty in the Department of Kinesiology and Health Promotion at the University of Kentucky in collaboration with college tobacco-free ambassadors. #iCANendthetrend aims to help build awareness on the dangers of tobacco use, including e-cigarette use, costs associated with nicotine dependence, and ways youth have been targeted and influenced to use these products.
The program uses a peer-to-peer model in which elementary, middle, and high school students are connected with college student facilitators. In addition, the goal is to empower younger generations to end the trend of tobacco and e-cigarette use among their peers and in their communities through skill-based and engaging lessons, tailored training, and outreach opportunities.
Book Us
We offer several different presentation options for elementary, middle, and high school students (4th-12th grade). We have options to give one condensed 45-minute lesson, three presentations over a several day/week period, and are open to longer programming opportunities. We prefer to keep our classrooms small with a maximum of 30 students to ensure activities and questions can be managed with one facilitator. We are not currently accepting bookings for assembly style presentations.
Tailored Lessons and Opportunities
#iCANendthetrend focuses on empowering young people to prevent tobacco and e-cigarette use. We offer tailored presentations for 4th-12th grade that align with the National and Kentucky Health Education Standards.
Schools can select a one or three session presentation. Our 45 minute compiled presentation includes information on the dangers of e-cigarettes, health and financial consequences, what it means for this product to be a trend, how students are targeted through use of flavors, marketing, and social norm perceptions. We also build in refusal skills and share quitting resources tailored for young people. We highly recommend our 3-session presentation, which covers similar content, but allows for greater opportunity to go further in depth and includes additional interactive and skill-building activities. This longer session also gives the peer facilitators more time to build connections with the students and encourage additional conversations about the topic.
In addition, we conduct youth advocacy workshops and offer programming specifically targeted to athletes, parents, community members, pre-professionals, and professionals.
Contact Information
What's Our Primary Goal? (video)
Our Impact Across Kentucky
Since 2019, the #iCANendthetrend team has successfully delivered our programming to over 17,000 students, 100 schools, and 50 counties. Have we been to your school? Check the map below!
General Information on E-cigarettes
Additional Programming and Media Resources
Learn More About Quitting
Quit Now Kentucky | www.QuitNowKentucky.org | Free phone, text, and online chat service for Kentuckians who want to quit using tobacco products. Currently available for all ages. Enroll by visiting QuitNowKentucky.org, calling 1-800-QUIT-NOW, or texting "QUITKY" to 797979.
My Life, My Quit | www.MyLifeMyQuit.com | Free, confidential service for pre-teens and teens who want help quitting tobacco products. Participants should visit MyLifeMyQuit.com, or call or text "START MY QUIT" to (855) 891-9989 to register.
This is Quitting | www.ThisIsQuitting.com | Free texting program specifically for teens and young adults who want to stop vaping developed by Truth Initiative. Text "KENTUCKY" to 88709. Parents and other adults looking for resources to help kids stop vaping should text "QUIT" to (202) 899-7550.