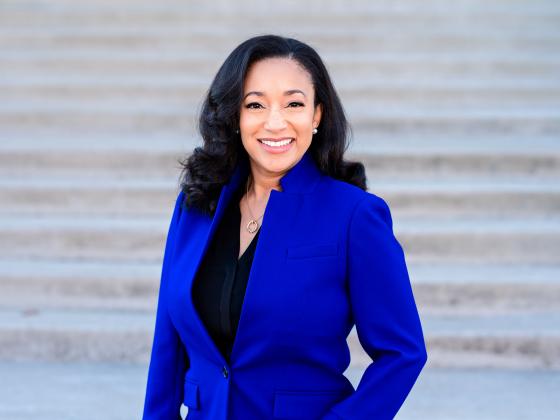 Welcome to the College of Education
Acting Dean Danelle Stevens-Watkins, Ph.D., a proud UK College of Education alum, also serves as the university's associate vice president for research, diversity and inclusion, and is a professor in the Department of Educational, School, and Counseling Psychology.
Stevens-Watkins is the first woman of color to serve in this role for the College of Education, marking a historic moment for the college and university.
Stevens-Watkins is a licensed health service psychologist and clinical scientist. Her research is focused broadly on improving health outcomes for Black Americans. Notably, to date, she has secured over $8 million in grants and contract funding as principal investigator (PI). Her research has earned funding from the National Institute of Health (NIH) for over the past decade.
In her role as the associate vice president for research for diversity and inclusion, Stevens-Watkins has led the UNITE (UNited In True racial Equity) research priority area since its inception in August 2020. UNITE is a $10 million investment over five years focused on growing racial equity research at UK and the recruitment and retention of diverse faculty and students at UK.
Notably, she is the 2022 Kentucky Psychological Association Researcher of the Year, she has earned the Teacher Who Made a Difference Award multiple times at UK, the UK Clinical and Translational Sciences Mentor Recognition Award and the Kentucky Psychological Association Mentor of the Year award.
Prior to her faculty appointment at the college first in 2008 and again in 2013, Stevens-Watkins worked for the Kentucky Cabinet for Health and Family Services, Our Lady of Peace psychiatric hospital, residential drug treatment facilities and state and federal prisons. She completed a Ph.D. and Ed.S. in counseling psychology from the University of Kentucky, and a master's degree in clinical psychology from Spalding University, along with a bachelor's degree in psychology from University of Louisville.
The office of the dean includes:
Senior Associate Dean Academic Programs and Partnerships
Senior Associate Dean, Research and Graduate Student Success and Professor
Associate Dean, Undergraduate Student Success and Professor
Associate Dean, Inclusion and Internationalization and Professor