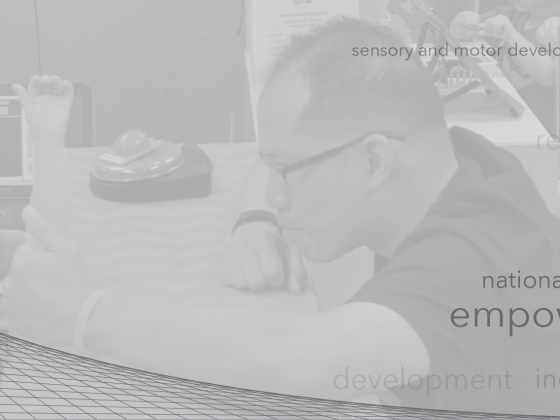 Master of Arts in
Orientation & Mobility
Overview
The Master of Arts Program in Orientation and Mobility (O&M) prepares individuals to provide instruction related to knowledge and skills for independent travel for children and adults with visual impairments. These learning and instructional topics include:
Use of canes, dog guides, and adaptive mobility devices
Instructional and assessment techniques regarding independent and assisted travel
Sensory and motor development and environmental concepts
Advanced travel for intersections, bus travel, and other complex environments
For candidates who have not already completed prerequisite courses in visual impairments in another program at the University of Kentucky or another university, such as in a Teacher of the Visually Impaired program, these three courses can be taken concurrently in addition to O&M coursework.
The Master of Arts Program in Orientation and Mobility program is approved by the Kentucky Education Professional Standards Board and the National Council for Accreditation of Teacher Education (NCATE). The curriculum for this program is aligned to ACVREP standards and competency requirements and will begin pursing AER accreditation.
Why You Should Enroll
The University of Kentucky has the distinction of offering the only O&M program in Kentucky.
Support for Students
The program is funded through a grant from the Kentucky Department of Education. When face-to-face classes are held in Louisville, free housing is available through the Kentucky School for the Blind.
Hybrid Program
Courses are offered via Zoom in the evenings, face-to-face weekends in the fall and/or spring, and intensive face-to-face summer courses. This allows individuals who work full time during the day, such as teachers, to still participate in the program.
High Demand
The graduate program addresses a critical shortage of qualified and certified O&M specialists throughout Kentucky and nationally. There continues to be unfilled positions to provide services to children and/or adults who are blind and visually impaired. Professionals in O&M are often employed in school districts, rehabilitation agencies, VA Hospitals, and as independent contractors.
Nationally Recognized Faculty
The Visual Impairment Program Faculty are recognized by national and state agencies and educational systems for commitment to preparing O&M and VI professionals to teach individuals with visual impairments.
Visual Impairment Program Faculty Check out our other Visual Impairment Program: Teacher Preparation Program
Program Details
Delivery Method: Hybrid
Credit Hours: 30
Tuition Cost: Refer to Credit Hour Rates for Graduate Students on the UK Tuition and Mandatory Fees page.
Refund Policies: You can find tuition refund policies, deadlines, amounts, and other important information on the UK Student Account Services website.
The O&M master's program uses a model with synchronous classes offered via Zoom in the evenings and 1-2 face-to-face weekends in the fall and/or spring. BVI 621 and 622 are blindfold classes that require extensive face-to-face sessions in the spring and summer near the University of Kentucky in Lexington and Kentucky School for the Blind (KSB) in Louisville. The O&M master's program consists of a total of 30-graduate credit hours.
All candidates start the program in the fall and will take the O&M courses over a two-year time span. The degree program may take longer to complete if the candidate takes more than a semester to finish the internship requirements.
Curriculum Guide
Year One
Fall

BVI 580: Introduction to Visual Impairment** (3)
BVI 583: Braille Code I** (3)
CED 525: Human Growth and Development (3)

Spring

BVI 620: Foundations of Orientation and Mobility (3)
BVI 621: Introduction to Skills and Techniques in Orientation and Mobility (2)

Summer

BVI 622: Advanced Skills and Techniques in Orientation and Mobility (2)
BVI 623: Orientation and Mobility with Children (3)
BVI 624: Technology in Orientation and Mobility (1)
Year Two
Fall

BVI 626: Methods in Orientation and Mobility (3)
BVI 582: Anatomy and Physiology of the Eye (3)**

Spring

BVI 627: Orientation and Mobility for Individuals with Complex Needs (3)
BVI 628: Assessment in Orientation and Mobility (3)

Summer

BVI 629: Practicum in Orientation and Mobility* (1)
BVI 720: Internship in Orientation and Mobility* (6)

 
Total Credit Hours: 30
* fall, spring, or summer
**Course is a prerequisite.
How to Apply
Deadlines
Applications are only accepted on even years. The Fall 2022 deadline for admission is March 10, 2022.
Program Requirements
Face-to-Face Requirements
Attendance of face-to-face meetings is mandatory for all candidates! This includes 1-2 weekends a semester, several additional weekends for spring (Year 1), and approximately 12-15 days in June and July (Year 1).  In Year 2, candidates complete a 30-hour practicum requirement. After finishing the other coursework, candidates will complete a 350-hour internship placement to fulfill the requirements for eligibility for certification through the Academy for Certification of Vision Rehabilitation and Education Professionals.
Lodging is available for free at KSB, as well as at many internship placement sites.  Candidates are responsible for their own transportation to and from classes, as well as lodging when meetings are not at the Kentucky School for the Blind.
Program Materials/Technology Requirements
PC or Mac computer with Technical Requirements as recommended by the UK Online Technology
Services
Blindfold
Headphones or earbuds
Webcam, microphone, and access to high speed internet
Application Requirements
Go to the Orientation and Mobility – Graduate page and follow the "Apply Now" link. In the "Plan of Study" the Admission Category should read "Masters degree", then "Orientation and Mobility" for the Program.
All candidates must have a minimum 2.75 overall or 3.0 GPA in the last 30 credit hours to apply and include the following in their application:
Resume/CV
Personal/Biographical Statement
1-2 pages on why you want to be an O&M Specialist
Double spaced, 12 point, Arial or similar font
Official transcripts from all previous universities or colleges
Three (3) references
Questions?
Want to Learn more about the O&M program? Feel free to contact Donna Lee with any questions you might have regarding this program. We can't wait to hear from you!
Clinical Associate Professor
(859) 257-1520
Tuition and Fees
Questions about tuition should be directed to the Registrar's Office.  More information about tuition and cost to attend can be found on the Registrar's website.
Financial Aid
There are occasional opportunities for students to receive funding as Teaching Assistants, Research Assistants, or via Scholarship funding. These announcements will be posted to the Student Advising Center on Canvas regularly. Students who are interested in more information about Financial Aid should contact the University of Kentucky's Financial Aid Office at (859) 562-CATS (2287) or 128 Funkhouser Building, Lexington KY 40506.
State Authorization and Licensure
If you plan to complete a University of Kentucky online program while living outside of Kentucky, you should check the Out-of-State Students page to determine if the University of Kentucky is authorized to provide this program in your state of residence. If you plan to use the degree to seek licensure, you should also determine if the degree meets the educational requirements for licensure in your state.