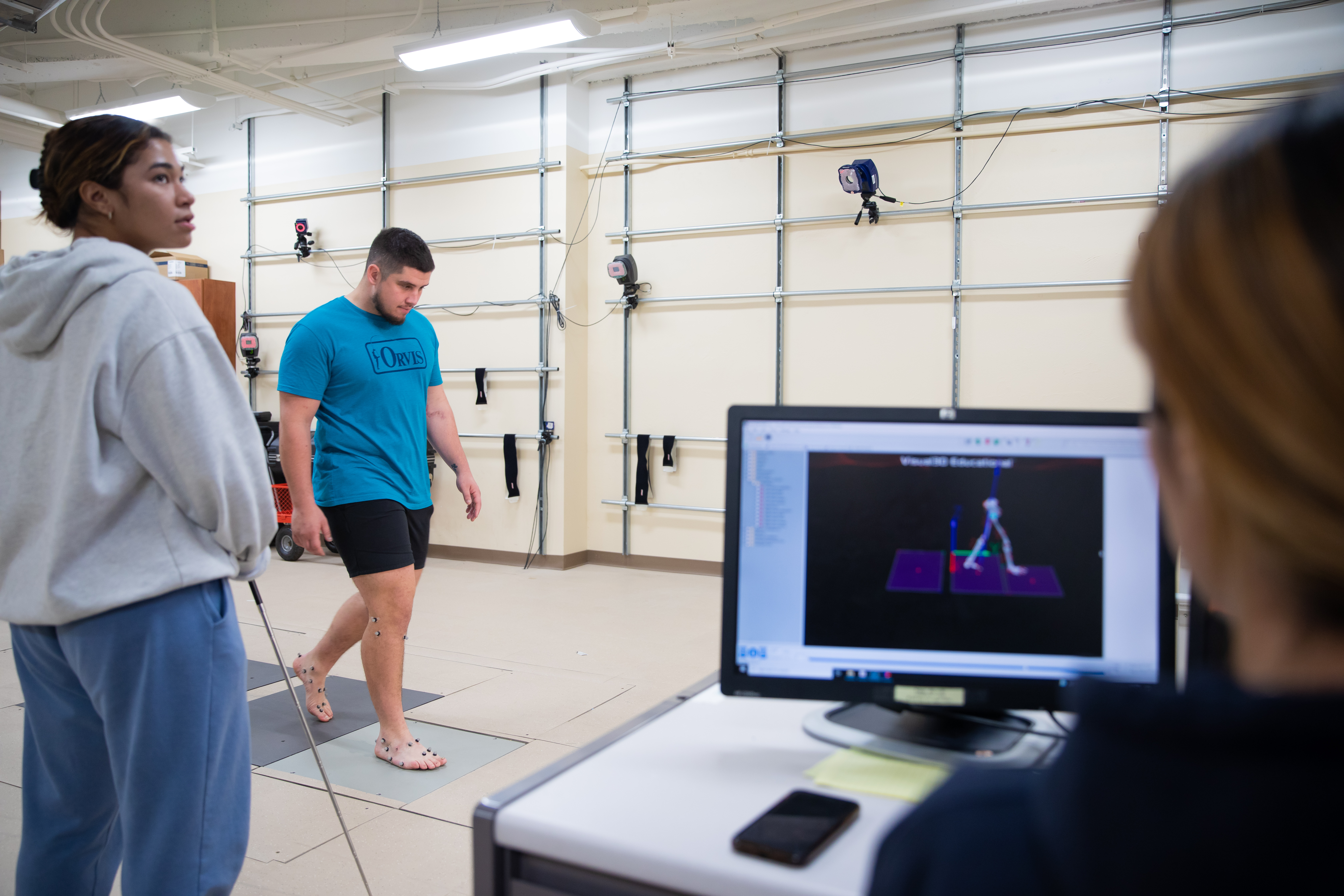 About the Lab
The Biodynamics Laboratory is a research and education facility that is shared by the Department of Kinesiology and Health Promotion, College of Health Sciences and Center for Biomedical Engineering. The lab contains state of the art equipment for the purpose of conducting biomechanical analyses. The mission of the lab is to further our understanding of the relationship between biomechanics and human health and performance, and to disseminate this new information to UK students, the local community, and scientific community worldwide.
Location & Contact
Fan Gao, Ph.D., Director
Michael Samaan, Ph.D., Co-Director
161 Multidisciplinary Science Building
725 Rose Street
University of Kentucky
Lexington, KY 40506-0082
(859) 257-4664
Lab Equipment
Motion Capture System
Motion Analysis Corporation
16 Eagle/Eagle 4 Motion Analysis Cameras
4 Raptor Motion Analysis Cameras
Cortex
EVaRT
3 Separate Data Capture Setups (1 Portable)
Force Plates
Kistler Instrument Corporation
2 Piezoelectric Force Platforms
2 Portable Piezoelectric Force Platforms
2 Large Bertec Force Platforms
Electromyography
Noraxon USA, Inc.
MyoSystem 1400
12 Channel EMG
4 Channel Electrogoniometer
16 Channel Delsys Bagnoli System
Treadmills
Research Bikes
RacerMate
1 Velotron Elite Cycle Electromagnetic Ergometer
2 Custom 2D Pedal Dynamometers
Software
Velotron Coaching Software
Velotron 3D Software
*Video, Force Plates, Force Pedals and EMG data have synchronized collection.
Video
SONY
Analysis Software
Others
Current Research
Gait Training in Individuals with Multiple Sclerosis
This study investigates the effectiveness of anti-gravity treadmill gait training on neuromuscular function, dynamic balance and gait in the population with Multiple Sclerosis.
Principal Investigator: Fan Gao, Ph.D.
Innovative Gait Training in Unilateral Transfemoral Amputees
In this project, an innovative robotic gait training is developed and implemented in individuals with unilateral transfemoral amputees. Its performance is compared with traditional supervised treadmill gait training in enhancing neuromuscular characteristics of the hip abductors, reducing gait deviations and improving functional performance.
Principal Investigator: Fan Gao, Ph.D.
Effects of Femoroacetabular Impingement Syndrome (FAIS) on Hip Joint Mechanics, Cartilage and Bone Health
Patients with FAIS exhibit abnormal hip joint mechanics and severe hip pain yet the effects of FAIS on hip joint bone and cartilage health are not well understood. Our study utilizes advanced musculoskeletal modeling techniques, quantitative MRI and PET-imaging to develop an understanding of the relationship between hip joint mechanical loading, cartilage composition and subchondral bone remodeling. This information will aid in the development of interventions that can optimize hip joint mechanical loads, improve hip joint health and reduce hip pain in the FAIS population.
Principal Investigator: Michael Samaan, Ph.D.
Alterations in Hip Joint Stress Patterns After Aerobic Exercise in Patients with Hip Osteoarthritis
Aerobic exercise is prescribed to patients with hip osteoarthritis (OA) yet the effects of aerobic exercise on hip joint stress patterns, biochemical alterations in cartilage health and hip-related pain are not well documented. We will assess the changes in hip joint stress patterns and serum-based biomarkers of cartilage health after a 30-minute walking task (mechanical stress test) in patients with hip OA. In conjunction with hip muscle strength measures, we will use the results from our mechanical stress test to develop targeted exercise-based interventions that will reduce the effects of hip OA disease.
Principal Investigator: Michael Samaan, Ph.D.
Helpful Links
Division of Athletic Training