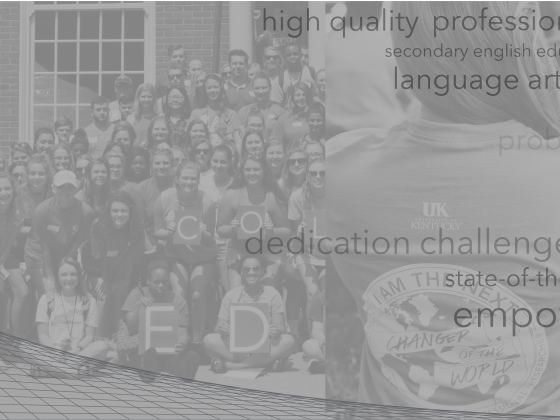 Middle Level Teacher Education
Overview
The Middle Level Teacher Education Program is a personalized, innovative program at the University of Kentucky. Teacher Candidates will participate in University-School Partnerships with strong collaborations between faculty and classroom teachers. Program completion leads to Kentucky certification in grades 5-9 in two content areas (English, Math, Social Studies, Science).
The Middle Level Education Program is approved by the Kentucky Education Professional Standards Board and the National Council for Accreditation of Teacher Education (NCATE).
Why You Should Enroll
Our Middle Level Program Faculty includes educators from within the College of Education, faculty from the University community and the Professional Educators from the Bluegrass area.
Program Details
Delivery Method:
Credit Hours:
Time to Completion:
Tuition Cost: Refer to Full-time per Credit Hour Rates for Graduate Students on the UK Tuition and Mandatory Fees page.
Curriculum Guide
Information coming soon!
Questions?
Check out the FAQ below or feel free to contact us with any questions you might have regarding this program. We can't wait to hear from you!
Associate Professor
(859) 257-1979
State Authorization & Licensure
If you plan to complete a University of Kentucky online program while living outside of Kentucky, you should check the Out-of-State Students page to determine if the University of Kentucky is authorized to provide this program in your state of residence. If you plan to use the degree to seek licensure, you should also determine if the degree meets the educational requirements for licensure in your state.
Tuition and Fees
For information regarding current program cost please refer to the UK Tuition and Fees page.
Refund Policies
You can find tuition refund policies, deadlines, amounts, and other important information on the UK Student Account Services website.