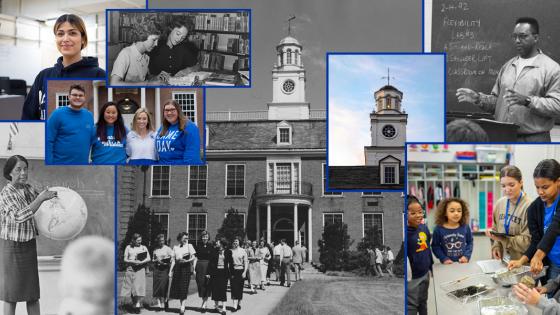 The University of Kentucky College of Education will mark 100 years in its history as a college during the 2023-24 academic year. A year-long series of events will commemorate the impact and innovations made in the decades since the college was established in 1923.
Our 100th anniversary presents the opportunity to connect with many of the individuals who are part of our history and celebrate the ways the college has played an important role in our lives and communities.
As a 2008 graduate of the UK College of Education's Counseling Psychology doctoral program and the first woman of color to lead the college, I take pride in being part of marking this momentous year in our history and leading the college as we reflect on our past, celebrate our progress, and plan for our future.
Our centennial year is a chance to advance our vision for how the college will continue to make a difference in the decades to come. As we look ahead, much of the dialogue about our future is reflective of the growing breadth of careers and interests that can be pursued in our college, how these majors impact society today, and how they will evolve in the years to come.
During the past 100 years, the College of Education has built upon its beginnings in teacher preparation to now offer more than 90 degrees and programs. As has been common in colleges of education across the U.S. during the past several decades, existing degree programs, faculty expertise, facilities, and equipment have been built upon through the years to meet the evolving needs of society in sport, health, and education. For instance, programs that initially focused on training physical education teachers have grown to include areas outside teacher certification, such as sport leadership, kinesiology, exercise science, sport psychology, and health promotion.
The incoming class of 2027 is the largest the UK College of Education has welcomed in the history of our college. Annually, more than 2,400 students are enrolled here on their journey to enter a wide variety of professions.
Although the college was formally established in 1923, its roots go as far back as 1880. During that period, individuals seeking to become among the most highly qualified teachers of their time came to what the Kentucky General Assembly established as a Normal School for the training of teachers. This college history was detailed during the university's sesquicentennial celebration in 2015. To read a full timeline of the college's history, visit education.uky.edu/100Years/history.
There have been many notable moments throughout our college's 100-year history. The first doctoral degree awarded at the university went to College of Education scholar and school administrator James Anderson Yates in 1929. The first Black student to graduate from UK was a student in our college, Mary Ann Henderson. She earned her master's degree in education in 1950, following the court-ordered integration of the university. During the 1960s, a movement to deliver educational content to classrooms via television gained momentum, with UK College of Education instructor Ollie E. Bissmeyer serving as coordinator at UK and hosting classes for teachers and school officials interested in using this innovative approach. In 1970, Joyce Hamilton Berry, who earned a master's degree in our college in 1967, became the first Black woman to earn a Ph.D. at UK. Former College of Education Dean J. John Harris III, named in 1990, was the first Black dean at UK. Five years later, in 1995, Shirley S. Raines became the first woman to be named dean of our college.
Historic moments such as these, as well as future achievements we hope to celebrate in our evolving story, will be noted each month this academic year as the College of Education's seven academic departments host events celebrating our 100th anniversary, to include the departments of:
Our year-long series of events will culminate in a 100th birthday celebration April 20, 2024 and a special 100th anniversary commemoration for students during the university's May 2024 Commencement. The 100th anniversary will also be celebrated at college events throughout the year for alumni, retirees, and other friends of the college, as well as students, faculty, and staff. See a schedule of events at education.uky.edu/100Years/100thevents.
We welcome your involvement as alumni and friends in the ongoing life of the college, now and beyond this special year.  As we celebrate our history, your support is vital as we work to create a strong future. I invite you to explore the ways you can join us in this effort by supporting student scholarships and other initiatives.
Let's make it a memorable year as we set the stage for the next century of making a difference.
Danelle Stevens-Watkins, Ph.D.
Acting Dean, University of Kentucky College of Education