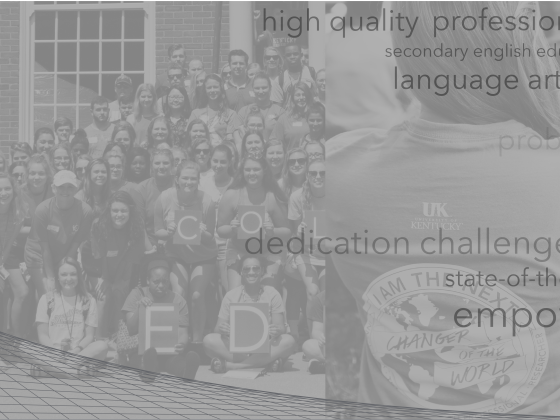 M.A. in Education with
Literacy Specialist Endorsement P-12
Overview
The Literacy Specialist Endorsement P-12 with Master of Arts in Education program offers a variety of graduate-
level courses, field experiences in local schools, and research opportunities with faculty. The combination of these classroom and experiential activities result in graduates who are prepared for the literacy challenges they may face in educational and community contexts. The program leads to certification as a Literacy Specialist P-12 in the
Commonwealth of Kentucky.  As well, it can lead to a Master of Arts in Education degree if needed and/or rank change (Rank I or Rank II).  The program is delivered in a variety formats including via distance learning, hybrid, and face-to-face courses.
Program students and faculty communicate by frequent contact via coursework, advising sessions, and the LISTSERVs for literacy professionals, literacy students, and by their course LISTSERVs.  The Literacy Program LISTSERV is designated by the code READ.
Students in the Literacy Program enjoy a collegial relationship with program faculty. The Literacy Program faculty continuously monitor how the program is relevant to professional challenges so we can adjust our teaching and learning experiences to provide a dynamic preparation for our graduate students.
Why You Should Enroll
The mission of the Literacy Program is to prepare literacy education professionals who: (a) recognize that literacy development is a life-long process that goes beyond the printed word and includes the critical ability to negotiate literacy in the world; and (b) are capable of effectively addressing literacy opportunities and challenges in educational and other settings.
Program Outcomes
Through clinical experiences, coursework, and job-embedded practice, the Literacy Specialist program with rank change in the College of Education's Department of Curriculum and Instruction will prepare literacy professionals (e.g., literacy specialists, literacy coaches, Rank I or Rank II) to:
Develop literacy content knowledge
Apply theories and research appropriately to inform instruction and assessment
Critically evaluate literacy methods, practices, and policies
Pursue ongoing professional learning
Apply knowledge of language and literacy development, and its typical degree of variation, to inform instruction and assessment
Cultivate professional dispositions (e.g., value diversity, communicate effectively, demonstrate professional ethics, etc.)
Demonstrate literacy leadership in varied contexts
Resources
Program Details
Delivery Method:
Credit Hours:
Time to Completion:
Tuition Cost: Refer to Full-time per Credit Hour Rates for Undergraduate Students on the UK Tuition and Mandatory Fees page.
Curriculum Guide
Information coming soon!
Questions?
Check out the FAQ below or feel free to contact us with any questions you might have regarding this program. We can't wait to hear from you!
Professor
(859) 257-1981
State Authorization & Licensure
If you plan to complete a University of Kentucky online program while living outside of Kentucky, you should check the Out-of-State Students page to determine if the University of Kentucky is authorized to provide this program in your state of residence. If you plan to use the degree to seek licensure, you should also determine if the degree meets the educational requirements for licensure in your state.
Tuition and Fees
For information regarding current program cost please refer to the UK Tuition and Fees page.
Refund Policies
You can find tuition refund policies, deadlines, amounts, and other important information on the UK Student Account Services website.