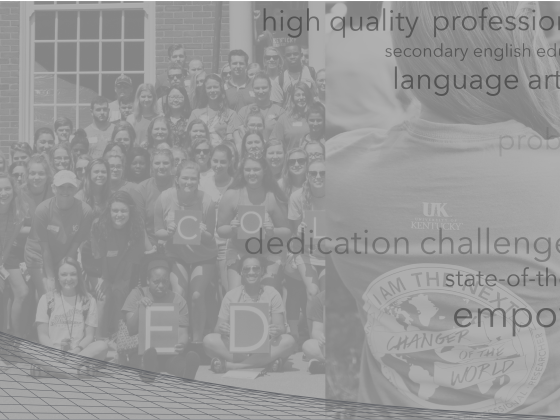 Bachelor of Arts in
Elementary Education
Overview
The Elementary Education program at the University of Kentucky prepares students to become Elementary Education teachers, and it also lays the groundwork for several other career possibilities in fields like school leadership, educational psychology, curriculum design, state policy, publishing, higher education, and corporate training.
Our program prepares you to teach at the elementary education level, kindergarten through fifth grade. We take a unique approach to teacher education. 
Earning a degree from our program means you have proven yourself to be an effective teacher, gained valuable field experience, and forged important connections in the schools where you may one day be teaching.
We encourage you to explore our Bachelor of Arts degree in Elementary Education and our world-class program faculty, as well as familiarize yourself with the resources and engagement opportunities available to our students.
The Elementary Education program is approved by the Kentucky Education Professional Standards Board and the National Council for Accreditation of Teacher Education (NCATE).
Why You Should Enroll
In the UK College of Education Elementary Education program, students are immersed in field experiences from the start. Your college classes are embedded in local elementary schools during pre-practicum and practicum.
Elementary Education students gain over 200 hours of field experience in classroom observations, community-based outreach, school board meetings, and other school visits in addition to a full semester of student teaching.
Program Details
Delivery Method: In-person
Credit Hours: 120
Time to Completion: Refer to the Curriculum Guide in the following section for the courses needed to complete this program.
Tuition Cost: Refer to Full-time per Credit Hour Rates for Undergraduate Students on the UK Tuition and Mandatory Fees page.
Curriculum Guide
The B.A. in Education degree contains three steps:
UK Core requirements
Program related studies courses
Professional education component
Below is a template of the course progression followed by Elementary Education students.
Year 1
Semester 1 (16 course hours)
UK Core- Composition & Communication I : CIS or WRD 110 (3)
UK Core- Quantitative Foundations: MA111- Introduction to Contemporary Mathematics (3)
UK Core- Social Science: EPE 174- The College Student (3)
PSY 100- Introduction to Psychology (4)
UK CORE- Humanities: HIS 108- History of the United States (3)
Semester 2 (16 course hours)
UK Core- Composition & Communication II: CIS or WRD 111 (3)
UK Core- Global Dynamics (3)
BIO 103- Basic Ideas of Biology (3)
BIO 111- General Biology Lab (1)
STA 210- Statistical Inferential Reasoning (3)
UK Core- UK Citizenship: HIS 109- History of the United States through 1876 (3)
Year 2
Semester 1 (15 course hours)
Check with your advisor to make sure requirements are completed for applying to the Teacher Education Program.
UK Core- Arts and Creativity (3)
EDP 202- Human Development and Learning (3)
EES 160- Geology for Teachers (3)
MA 201- Math for Elementary Teachers (3)
Special Needs Course #1 (3)
 Semester 2 (16 course hours)
Apply to the Teacher Education Program
EPE 301- Education in American Culture (3)
PHY 160- Physics and Astronomy for Teachers (3)
MA 202- Mathematics for Elementary Teachers (3)
A-E 200- Workshop in Design Education for Elementary Teachers (3)
Free Elective Course (3)
Year 3 
Semester 1 (15 course hours)
MUS 266- Teaching Music in Elementary Grades (3)
LIS 510- Children's Literature & Related Materials (3)
Additional Literacy Course #1 (3)
State/Regional Course (3)
Special Needs Course #2 (3) 
Semester 2 (16 course hours)
*EDC 317- Introduction to Instructional Media (1)
*EDC 329- Teaching Reading and Language Arts (3)
*EDC 323- Inclusive Classroom Management (3)
*KHP 380- Health Education in Elementary Schools (2)
*KHP 282- Physical Education for Elementary School Teachers (2)
Additional Literacy Course #2 (3)
Two Hours of Electives (for 120 total hours) (2)
Year 4
Semester 1 (15 course hours)
*EDC 322- Elementary Practicum
*EDC 326- Teaching Social Studies in Elementary School
*SEM 328- Teaching Science in the Elementary School
*SEM 337- Teaching Mathematics in Elementary Schools
*EDC 339- Designing a Reading and Language Arts Program for the Elementary School 
Semester 2
*EDC 433- Student Teaching 
*requires prior admission to the Teacher Education Program
Questions?
Advising & Contacts
Prospective Students who are not currently enrolled in courses at UK can contact the College of Education Director of Recruitment for information on the program.
Advising for Current Students: Current Elementary Education majors who have not been admitted to the Teacher Education Program are required to meet with a professional advisor in the Taylor Education Building Room 166 each semester prior to registration. Students are assigned to an advisor based on the first letter of their last name.
State Authorization & Licensure
If you plan to complete a University of Kentucky online program while living outside of Kentucky, you should check the Out-of-State Students page to determine if the University of Kentucky is authorized to provide this program in your state of residence. If you plan to use the degree to seek licensure, you should also determine if the degree meets the educational requirements for licensure in your state.
Tuition and Fees
For information regarding current program cost please refer to the UK Tuition and Fees page.
Refund Policies
You can find tuition refund policies, deadlines, amounts, and other important information on the UK Student Account Services website.