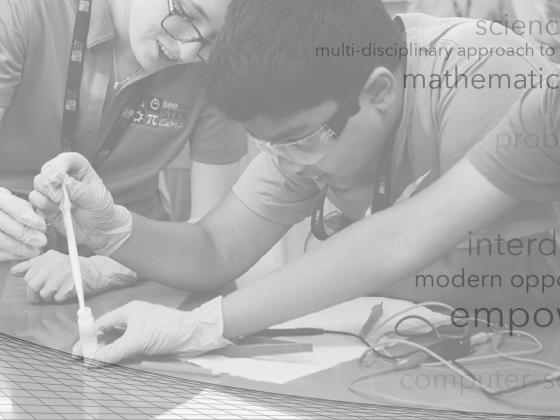 STEM PLUS Bachelor's in STEM Education
Overview
STEM PLUS is the undergraduate certification program offered by the UK College of Education STEM Education Department. It represents a multi-disciplinary approach to teacher education and prepares leaders for today's urban and rural schools. The STEM PLUS undergraduate program is the first STEM Education major in the United States!
As a student of the STEM PLUS program, you will earn a double major in STEM Education PLUS your choice of one focus major with a secondary teaching certification (grades 8-12) in one or more state-certifiable STEM subjects.
mathematics
physics
chemistry
earth science
biology
As you enter prepare to enter your junior year in the STEM Education program, you will have the opportunity to apply for a UK-Noyce fellowship. This financial assistance program provides at least $10,000 per year for up to two years. The UK-Noyce Fellowship Program is supported by the National Science Foundation and provides academic scholarship support for undergraduate students majoring in a STEM discipline and seeking to become teachers in mathematics and/or science.
Why You Should Enroll
Our program responds directly to the needs of urban and rural schools.
We are committed to producing STEM teachers who will function as ethical professionals, lifelong learners, and leaders in their schools and communities.
You can expect formal and informal clinical field experiences from your very first year in the program.
Upon graduating, you will receive a Bachelor's in STEM Education and can leverage cultural and linguistic diversity to make STEM knowledge and skills relevant and useful for all students. You will be able to use STEM productively in your daily live to achieve personal goals, participate as active citizens, and to develop the STEM skills necessary for access to modern opportunities in our global technological society.
Program Details
Delivery Method: On-campus
Credit Hours: 120
Tuition Cost: Refer to Credit Hour Rates for Undergraduate Students on the UK Tuition and Mandatory Fees page.
Curriculum Guide
Listed here are the required STEM Education major courses. For full program details and to view the major requirements for each of the focus options, see the most current Major Sheet for Secondary STEM Education.
Required STEM Education Core Courses
| Course # | Course Name | Credit Hours |
| --- | --- | --- |
| SEM 110 | Introduction to STEM Education | 2 |
| EDP 202 | Human Development and Learning | 3 |
| EDS 516 | Principles of Behavior Management and Instruction | 3 |
| SEM 421 | STEM Methods I | 3 |
| SEM 422 | STEM Methods II | 3 |
| SEM 423 | Assessment in STEM Education | 2 |
| SEM 435 | STEM Student Teaching in the Secondary School | 10 |
| EDC 533 | Teaching Literacy Across the Disciplines | 3 |
Questions?
Feel free to contact us with any questions you might have regarding the STEM PLUS undergraduate program. We can't wait to hear from you! You can also schedule an appointment through myUK to meet with our academic advisor.
Associate Professor
(859) 257-1979
Professor
(859) 257-1291
Academic Advisor
(859) 257-3364
State Authorization and Licensure
If you plan to complete a University of Kentucky online program while living outside of Kentucky, you should check the Out-of-State Students page to determine if the University of Kentucky is authorized to provide this program in your state of residence. If you plan to use the degree to seek licensure, you should also determine if the degree meets the educational requirements for licensure in your state.