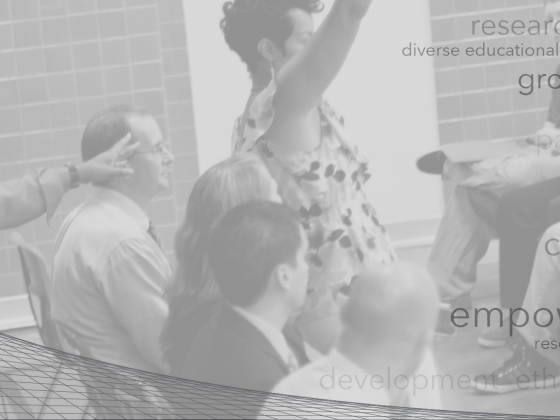 Urban Leadership Ed.S.
Principal Certification
Overview
The UK College of Education's Department of Educational Leadership Studies, in partnership with Fayette County Public Schools (FCPS), has developed an Urban Leadership Program aimed at preparing aspiring school leaders across FCPS to earn an Education Specialist (Ed.S.) degree, principal certification, and Rank 1. The UK-FCPS Urban School Leadership program is designed to bring together aspiring school leaders, district leaders, and university faculty to examine the unique challenges faced by today's urban schools.
The program will focus on those practices that have proven to be most successful in urban schools, situating that learning within a broader context of race, class, culture, and social justice. Coursework will involve authentic learning experiences, projects, and products that engage students in solving real problems encountered by leaders right here in Fayette County. You will develop strategies for cultivating school cultures of high expectations, improving instruction in diverse environments, and empowering students and communities to generate better outcomes for all.
Benefits of the Urban Leadership Program
The UK-FCPS Urban Leadership Program, a partnership between Fayette County Public Schools and the University of Kentucky, is designed to prepare principals who can respond effectively to the unique challenges faced by today's urban schools.
Leaders who hold the accountability of raising student achievement in urban schools need specialized training in practices that have proven to be most successful. We will be seeking prospective students who are interested in learning to lead within a broader, more urban context.
With FCPS and UK faculty as guides, aspiring principals will work in small groups in a special Fayette County Urban Leaders cohort, completing weekly graduate coursework online. As part of the program, you will also have the opportunity to attend the UK Next Generation Leadership Academy at no additional cost. Academy days offer the chance to learn and interact with school leaders from across the state and focus on leading deeper, more personalized learning for all learners.
The effectiveness of urban school leaders is tied to the effectiveness of the principalship program that prepared them. The UK College of Education's Department of Educational Leadership Studies was selected to partner with FCPS because of its strong reputation among Kentucky districts. Alumni of the program are in leadership roles across the state, and it is the home of theCenter for Next Generation Leadership.
Why You Should Enroll
Aspiring leaders who successfully complete the Ed.S. with principal certification program become eligible for a variety of administrative jobs including principal, assistant principal, academic dean, administrative dean, as well as other district-wide positions like coordinator and instructional coach (depending on the specific requirements of the various job descriptions).
Rich and Relevant Field Experiences – Most Ed.S./Principal candidates are working full-time as classroom teachers so our program is designed to enable you to complete a variety of field-based, often job-embedded assignments that enhance transfer of learning to practice. Major class assignments and projects are tied closely to the work of your school and district so they are highly relevant and mirror the work of actual school leaders. Across the program of studies you will develop individual professional growth plans, conduct rigorous and relevant action research, conduct classroom observations giving feedback to your teaching colleagues, develop a school budget, assess your school's culture and climate, and much more.
Candidates will also have the opportunity to conduct interviews with diverse educational leaders from across Fayette County several times during the program. For example, while enrolled in EDL 634 Securing and Developing Staff, you may interview (a) a principal regarding teacher evaluation, (b) a superintendent regarding principal hiring, or (c) a human resources director regarding issues related to employee discipline.
Assignments from all of your courses will be collected and archived as evidence of your learning in a digital portfolio. At the conclusion of your coursework, you will participate in a rigorous defense of your learning by responding to your committee's questions and sharing artifacts from your portfolio that demonstrate mastery of the Professional Standards for Educational Leaders (PSEL).
Program Details
Delivery Method: Online
Credit Hours: 30
Tuition Cost: Refer to Credit Hour Rates for Graduate Students on the UK Tuition and Mandatory Fees page.
Curriculum Guide
Year One: Academy
Fall
Spring
Summer

EDL 706: Leadership for Learning-centered Schools I
EDL 709: Evidence-based Decision Making

EDL 707: Leadership for Learning-centered Schools II
EDL 646: Leadership for School-Family Community Engagement

EDL 627: School Finance and Support Services
EDL 628: School Law and Ethics

Next Generation Leadership Academy Participation

Next Generation Leadership Academy Participation

 
Year Two: Certification
| Fall | Spring |
| --- | --- |
| EDL 708: Organizational Learning in P12 Schools | Two Electives from Approved List |
| EDL 634: Leadership for Human Resources Development in Schools | |
| Defend Level 1 Portfolio – Eligibility for Level 1 Principal License | UK Graduation and Full Principal Licensure |
How to Apply
To apply for admission, potential applicants should complete the online application found at the UK Graduate School website.
Test-Free Policy
GRE scores are not required for admission to programs in the Department of Educational Leadership Studies.
The test-free admission policy applies to all graduate certificate, master's degree, education specialist, and doctoral programs in the department.
We recognize the challenges prospective students experience because of the inequities these tests perpetuate. The Department of Educational Leadership Studies is able to evaluate applicants for admission without the use of test scores through non-test factors that honor the spectrum of experiences our applicants have. A test-free policy is one part of our ongoing commitment to diversity, equity, inclusion, and justice (read more about that here).
In 2017 we announced this policy for our master's and education specialist degrees and for our graduate certificates. In March 2021, we announced that this policy is being extended to our doctoral programs.
Deadlines
Deadline to Apply: August 9
Program Requirements
an undergraduate GPA of at least 2.75, or a graduate GPA of at least 3.00
a personal interview with two program faculty
letters of reference indicating appropriateness of student for the program
a written statement indicating interest in and goals for the degree program
Questions?
Feel free to contact us with any questions you might have regarding this program. We can't wait to hear from you!
Clinical Associate Professor
(859) 257-8921